Well this is a new beginning!!!
Reported earlier though was our change from towing to being towed. Yes, no home towing car we are now car towing home and this is the report of our first serious trial run.
FOLLOW the MURRAY.
With nothing better to do over the last weeks of March we decided it was time to set out on our discovery of Victoria. Where better to start than along the northern border and coincidentally to conclude the journey at granddaughter Ediths 6th birthday in Adelaide.
So, the NOVEL HOVEL.2 was hitched up to the new Patrol on the 15th of March and around lunchtime we set off to find the start of the Murray River. First night was a free camp on the banks of the Mitta Mitta River……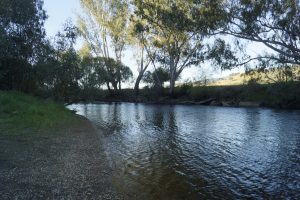 and a very pleasant night was had by all.
Next day on to the start of the Murray high up in the mountains of the Kosciusko national park. We could only access what we could see from Tom Groggin campsite, probably 5 km from the actual start of the river where it actually bubbles from the ground cos I wasn't able to walk the trail because of torn back muscles suffered some days before we left (and I as write this some two weeks on am just starting to recover). However the river  is not very great at this point….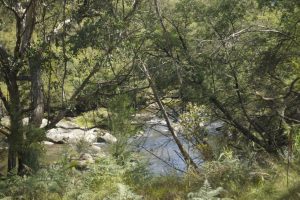 but has been added to by about 8 different creeks by the time it reaches this spot. On our way up the windy mountain roads, which would have been a challenge in the Novel Hovel MKI, we stopped by Khancoban for lunch and to view the Murray 1 power station….
and night two saw us free camped…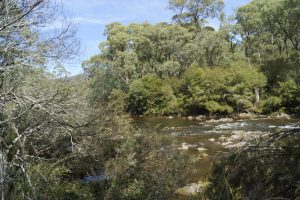 on the banks of the Murray at Geehi Wall sharing with a mob of kangaroos.
Day three took us along the banks of the Murray via Towong, Tintaldra, Walwa, The Glen, Bungil and Bellbridge all the way back to Wodonga…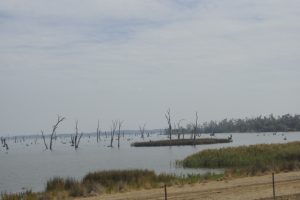 where it feeds into Hume Weir. As we follow it down it obviously takes on the aspect that we are more familiar with – it's width. This is attributable to the continuing inflow from other creeks and smaller rivers along the way. Overnighting at the Wodonga Showgrounds we topped up water and batteries and day four had us continuing on to Barooga where we spent a very pleasant night again on the banks of the Murray….
Next day, on to Barmah State Forest where on our first major journey in The Novel Hovel 1 we had some technical difficulties which put us back 3 days. No such bad luck this time as we passed through Picola on and into the forest… (some technical difficulties have arisen -more later)