On our southward journey down the NSW north coast we dropped in to Port Macquarie to catch up with niece Debbie King and Graham. We got a bonus – Julieann, whom we had not seen in many, many years. Dinner with Deb and Graham at their new house, lunch out the next day and then a BBQ back at the Winnie on a third night. A real pleasure to catch up with the King girls again. I did take photos but had forgotten to replace the SD card in the camera and therefore no photos. Bugger! Tried to then catch up with Barry and Suzy Houghton in Forster only to find that they have moved up to Port Macquarie  and we were now long past there. Oh well, next time.We moved on and spent a bit of time in Newcastle whilst Lindy and I demolished her carport. This in preparation for a new fence to stop the dogs getting out and to ultimately facilitate renovations to the house. We also caught up for dinner with Darryl and Yvonne. Robyn, still with us at this point, finds a call to tender for management rights to a couple of caravan parks in Bundaberg. Got to see what the prospect is, so after a trip to the tip to deposit the remains of the carport we set off for Bundaberg. Its not that far, only a couple of days travel although we make it into 3 cos the roads once we get into QLD are shocking. In fairness we did probably go the back way but the roads were slow and Winnie didn't like them much. Mind you it was still around 1100 km. Over the past few weeks 40 – 50 km would be a big day so 3-400 a day was a bit heavy.
Anyway, whilst in Newcastle, we had a bit of a look around primarily because the Queen Elizabeth II was in town ……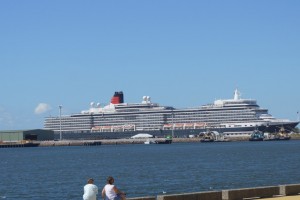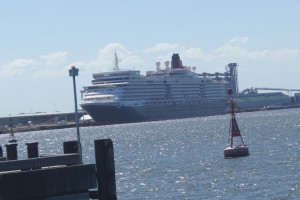 she's a big boat! Sailed at 5.30 and there were traffic jams cos of sight-seers. We didn't stick around.
Separately, the views of Newcastle from the ANZAC walk are fantastic, as is the walk itself…….


The last shot of the QE II is also taken from this viewpoint so you can see how encompassing the outlook is. The commemorative walk itself is beautifully done with rusty steel profiles with family names of all participants in WWI  & WWII from the area embossed thereon. The walkway itself is made of stainless steel and a synthetic floor.
Heading to Bundaberg was a bit of an opportunity to go back to a place we missed last time – Fraser Island. Jude previously was a bit hesitant due to the ferry ride but hardened up for this one and we made it there and back with no drama. Suzi had more drama though. Towards the end of our tour she developed a problem with the ESP leading to consistent brake lock-up. Had to complete the last 20 K or so in low ratio where ESP is disengaged automatically. Got back on the boat in pouring rain (which had threatened all day), re-engaged normal drive and the ESP problem seemed to go away. On the way back to the ferry we took a few wrong turns, got lost and then got bogged. The winch saved the day (although I have no photo evidence)….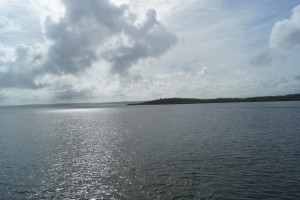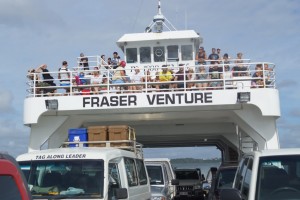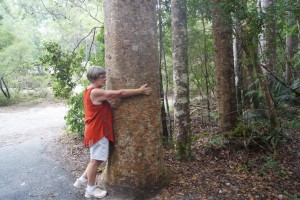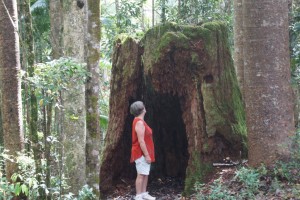 The largest sand island in the world, unbelievably tall and large trees, amazing stock of tourists, broken ships and clear,  fresh water lakes and streams and Jude survived one and half hours on the water. Fantastic four wheel drive opportunities too.
Anyway, completed a survey of Bundaberg caravan parks, separated from Robyn and now heading for Lightening Ridge.