Yeah its been a while since a. I've had the time, b. I've had the inclination and c. I've had the need to write.
Here we are in downtown Moore Park Beach, some 6 or 7 months after the last post and boy, hasn't there been some water under the proverbial bridge since.
Back in February (thats 2016) we were just on the edge of the north east coast of NSW in Newcastle visiting dear daughter after spending some weeks travelling down the coast after the week or so in Tamworth.
Robyn was with us still and got the word that 3 caravan parks in Bundaberg were up for tender for the management rights and as her then current contract on Lake Moogerah was coming to an end soon these might represent an opportunity to move on. Well…….. what can we do but head for Bundaberg to have a look , investigate the potential. So, early March we turn around and head back north. 3 fairly leisurely days later we pull into Elliott Heads Holiday Park just out of Bundy. Up for tender were Elliott Heads, Burnett Heads and Moore Park Beach Holiday Parks, 3 of 4 owned by Bundaberg Regional Council.
After several days of inspection and introspection it was decided that Elliott Heads and Moore Park Beach together presented the best prospect of replacement for Lake Moogerah and that Robyns family company "Total Park Management" would be well served to adopt the two. There was a possible glitch – it was known that the contract on Moogerah could be extended for another year but at the time of the tenders closing there was no real indicator of the intent. So, in order to simplify Robyns decision, Jude suggested that "perhaps we could help out" if it transpired that Moogerahs contract was indeed extended, thereby tying up the rest of Robyns management team. Well, within days of the tender going in to Bundaberg a verbal nod of acceptance of the tender was given. Almost simultaneously Scenic Rim Council decided to extend the Moogerah contract. Sooooo ….. long story short, we're here "helping out".
I keep telling myself it is only for 12 months and here we are 5 months in and I'm only now finding time to sit long enough to recount the tale – imagine if you can working up to 15 hour days, 7 days a week with no down time and you have some idea of our experience in the first few weeks. It has got easier – we're now down to just 10 hour days 7 days a week, but there is some quiet time during the day for the moment. In another couple of weeks the Xmas influx begins – we're booked out for the 2 or 3 weeks around Xmas and we're full of dear little children! I have to confess ……we're not looking forward to it!
This Holiday Park is 20 km out of Bundaberg just to the north-east. It is right on the water, has a beautiful beach and is in fact a very nice caravan park. It must have some appeal cos dozens of Mexicans come up here for the southern winters year after year after year, staying 2, 3, 4 months.. The park has 74 sites plus 16 permanents, so its not huge but it is busy all year round. We're at about 40% capacity presently (end November) but will hit 100% soon, drop back after Xmas but by end May be back up to 100% for the next few months. Elliott Heads is bigger though so I'm glad we're here and not there.
Anyway this is now. Before we got here we had a few other adventures. After assessing the parks in March we returned home slowly via Lightening Ridge. Booked in for two days, stayed four – fascinating place. There are lots of opal mining towns but none quite like Lightening Ridge and I might add we have since learned that we missed a lot of what it had to offer.
One of the ways it differs from other opal mining towns is in the fact that the miners and inhabitants don't live underground – the soil is too damp. This leads to an abundance of above ground development (if one can technically refer to it as "development") See……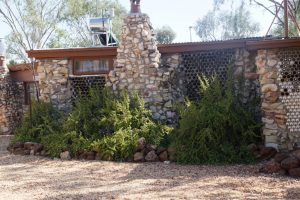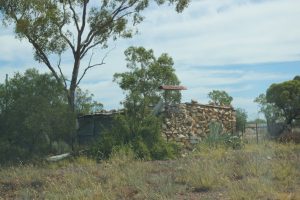 There are nonetheless some interesting above ground constructions………..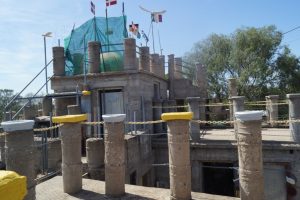 like the corrugated iron church built for a movie set, an emu built from volkswagens and the astronomers monument.
This is the one place where I can honestly say I was impressed by the calibre of the opal. I have never liked them as gemstones but some we saw here are stunning (and expensive – about $35K)
Chambers of the Black Hand was very possibly the highlight of LR. Started out with bored miner having opened his mine as a tourist attraction and whilst waiting for said tourists began carving words and pictures into the dampish clay/rock (with a butter knife). From there in I think about 1983 it has expanded somewhat…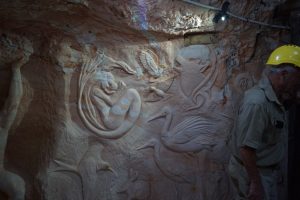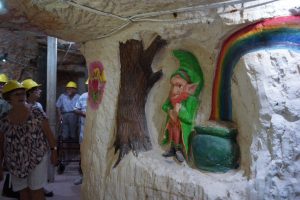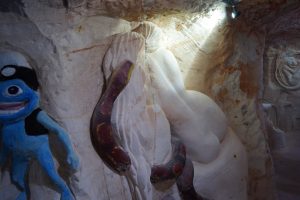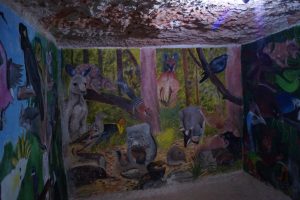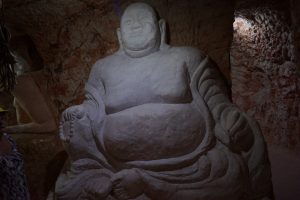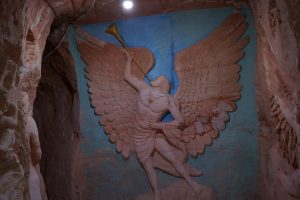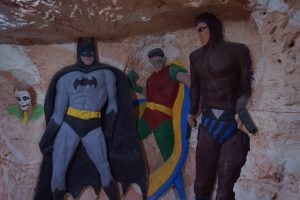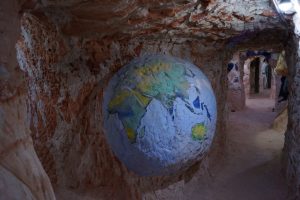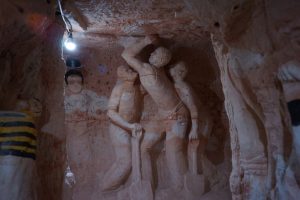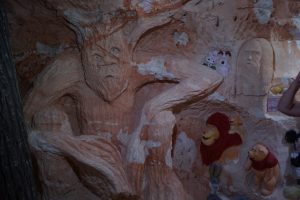 and I have but scratched the surface.
The man himself with Jude….
whose name without looking it up I can't remember.
Lightening Ridge is eclectic. I think of all of the opal mining towns we have now visited it is perhaps the most interesting and the one we're most likely to go back to as we've since heard we missed a lot. Jus dunno when!
From LR we wended our way slowly back home. Had to be back in time to get Midget ready for National Challenge over Easter. Another fabulous spridgety get together but most of our dear readers were there so there's not a lot of point waxing philosogood or whatphical about the merits of spritehood here. Suffice to say it was wonderful to catch up with old friends from around the country and Midgey made it through in one piece.
Then it was on to the tour of Gippsland and what can I say about the organisation. Dear Johns briefings were exemplerary maybe even a little verbose but was his timing good or what and weren't the roads fantastic. Nicely done old mate! We had a fabulous time.
But, then it was back to reality. Packing everything up to leave home. UGH!.
So here we are some 7 months on, still here in Bundaberg. I guess the one saving grace is that we are now over the hump. But what a hump its been. More on that another time. If I don't get this published today I never will. By the bye, this is now beeing fed to you via new computer. The old one finally recognised my inability to clone with it although I'm not sure this new one is any better.it keepsmtelling me my fingures are too big.
Whatever -bye now!