Here it is 2nd December, we're home in Benalla and I'm just getting back to the blog. I started this entry when the heating was on back in October. Why Oh Why are we back home?
From Moogerah we headed to the Gold Coast. I don't remember the last time we were here but it certainly didn't look like this……
(the first shot is Surfers Paradise from Labrador [north], second is Broadbeach approaching from the south, third is also Broadbeach from further south and fourth is Broadbeach from Coolangatta, way south). There are some 600,000 permanent residents on the Gold Coast but I'm guessing there is accommodation for as many again  in season. The traffic is endless on all of the roads and there are people everywhere. Its glitz and glam and high power, no longer a family beachside holiday spot and I loved it. I sort of loved it back when we got married here in 1968, thought it was a new frontier.  Found the church in which we wed…
in the same spot where it stood in isolation but baby look at me now….
Not only has the Gold Coast matured it has spawned southern attributes……
….. yes, McMansions everywhere.
It does have trams and trains for the plebs though but I wouldn't sink so low as to photograph them.
We visited some old familiar places but all had changed. Two days on the coast was enough – couldn't stand the pace. Just like being back in Melbourne only warmer and more bikinis.( and no, no shots for the voyeurs – just imagine)
On to Grafton for a quick catch up with Ian and Wendy Gibbs, just as Wendy was heading out for the Singapore Grand Prix. So drinks and dinner with Ian and next day on to Port Macquarie to catch up with Debbie King also over drinks and dinner but this time home cooked. Deb took us out to see their new home site into which they hope to move early in 2015.
Somewhere along the way we ventured to the continents most easterly point – Byron Bay. Here is proof that we both made it, but we did finally reconnect….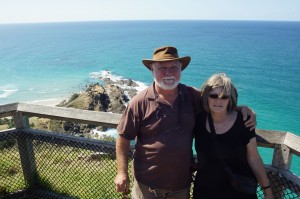 (look in the window)
Then it was on again to Forster to find Barry and Suzie Houghton, a couple we met  on our travels last year who then were from Bairnsdale. Having rotated the country they found Forster more to their liking and have now resettled there for the foreseeable future. Great night out with the two of them.
On to Newcastle for some time with Darryl & Yvonne (Walker). Met Darryl at the MG Car Clubs hillclimb circuit at Raymond Terrace just north of Newcastle then later out for dinner with the two of them. Both gave up their next day to show us around town – a real treat.
(I don't remember were the prawn fitted in but it must have been somewhere within this time zone, loved the Gymea Lillies) Then we caught up with our daughter but returned to Newcastle on the Sunday to spectate at the hill climb with Darryl and Von and  dear daughter. Another excellent day of motorsport spoilt only by the fact that I wasn't competing. (I've got a lot of photos of the competition and the circuit but I won't bore everybody with them here )
Our original plan was then to travel down the east coast back to Melbourne but we decided that in the remaining couple of weeks of the time we allocated to be away we couldn't see as much as we wanted to so we opted to head for home.
This then leaves virtually all of NSW and Victoria to explore on a future trip.
For those interested in these sorts of things we concluded this journey with just on 14000km on the Winnie clock for a fuel consumption average of 21.7l/100km ands a further 11000km on the Suzuki with an average consumption of 11l/100km ie we covered a total distance of 25000km, some 2000 less than last year.
Since getting home I've found the time fully utilised. I don't know how we spent nearly 6 months on the road, although I guess most of it is documented here, but the time flew by. We can't wait to hit the road again.
Thanks to all our loyal readers for your feedback and interest and we look forward  to titillating your interest yet again  next year. This trip will take us up the centre to Darwin and back to Perth via the north west coast so it should be full of spectacles and a lot of kays.
Cheers all til then…………..