I don't have a clever? opening. Katherine is almost like a big town – it has a Woolies and a cheap shop and an Autobarn and lots and lots of parking for big rigs.
We shopped for essentials and moved out to Katherine Gorge Resort. Sounds good but it is an overpriced National Parks campground, designed and run by bureaucrats. However it was the jumping off point for a boat ride up the Katherine Gorge (which was probably also overpriced at $84.00 per head) but it is really the only way to see and appreciate this natural wonder (unless you hire a helicopter which is dearer again). This is a stunning landscape…..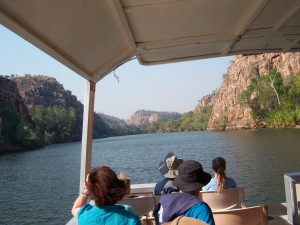 the like of which I don't think exists anywhere else in Oz.
The campground had its little amusements ……
like a wallaby looking for the latest news. Then there were the school kids, two bus loads from Norwood High and one from Warrandyte High all high on youth pills. Surprisingly all noise did actually cease before 10.00pm. Maybe there are some strict rules still applicable.
There is some livestock in and on the Katherine River but the best is still to come we understand. After a couple of days at Katherine Gorge and no dump point, we had to move on. Back to township of Katherine to fill up and empty then on to EDITH Falls. Again we're given the gen that you must get in early to secure a site. This is more National park which, as it turned out, is a bit more price realistic than Katherine Gorge but sites are indeed tight. Loverly spot and a nice mountain climb and a couple of chilly swims and  another night passes…..
there was some livestock here too and although we were assured that all the crocs had been moved on, the little fish nibbling at your legs were a little disconcerting. We even had entertainment in the evening after partaking of a barra burger at the kiosk…..
as John shared his music and his musical instruments with the audience. A couple of hours disappeared quickly. We only overnighted here then it was on to KAKADU. This place has always been on our bucket list but I'll get to it when we've seen more.