Welcome to our UK readers. Just caught up with Suzy and Barry again (29th)
Outa Ceduna 28th. Diverted to Mckenzies Ruins 5k out. Not sure why in retrospect but promised ourselves we would check out everything along the way. Interesting though that someone would see farming opportunity, sink big dollars (OK – pounds) and then abandon the place. Same story for Yalata homestead out of Fowlers Bay.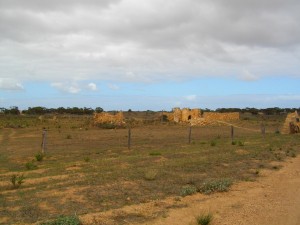 Of course we had to check this one out. I would have liked to get to the limit. I've never worked so hard – 30k in, 31k out, over 3 hours travel time. Talk about corrugations. And for those not aware Winnie tyre pressures are 100lb. Very harsh, very slow, very rattly, very exciting opening cupboards afterwards.
 But interesting, if only for the sand dunes which make Fowlers Bay look like an alpine ski resort, just 40 degrees hotter.
Got off the Eyre Highway again to see the Head of the Bight. No whales this time of year so only 5 bucks to get in. Triples in whale time.
But – a very impressive viewing location, whales guaranteed June – September and a fabulous outlook…….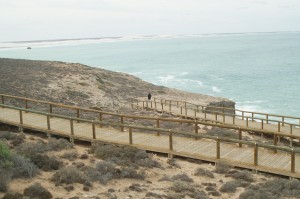 Got robbed at Nullarbor Roadhouse.
Fortunately only needed 50l – you do the math. I guess thats the price you pay to park up and go exploring. Murrawaijinie Caves sounded enticing and pictures of the road in looked less than Winnie friendly so off-loaded Suzy and took to the bush……
which looked nothing like the warning…..
We're parked up 25km west of Nullarbor Roadhouse for the night with old friends Suzy & Barry and  new friends Tony and Denise listening to the roar of road trains (yes, even on Good Friday). No TV, no radio but we do have the interwebby thingy so I'm getting to rattle on, particularly after 'happy hour'. But now I'm tired an wanna go to bed – its a long way from home Mummy.