We only had 3 days in Daytona Beach but it was more than enough. We really can't see what the attraction is but moving on to Orlando its attraction becomes  obvious – THEME PARKS!!!!  Disney, Disney, Disney, Disney and then there's Universal and Kennedy Space Centre plus many more smaller iterations. Disney is everywhere and all roads lead to Disney and occasionally Universal…
Disney has four theme parks (I think) one of which is Epcot which is supposed to be the future themed park. Frankly it was a bit of an overpriced let down, but more on that later.
The reason we were here in the first place is as a "prize" in an online competition which had as a stinger the obligation to attend a "time share" sales presentation. Our accommodation was paid for in Daytona Beach for 3 nights, Orlando for 7 nights and then 2 nights on the Grand Celebration cruise ship to take in Freeport in the Bahamas coming out of West Palm Beach. We also had a car provided for the duration of our stay so it seemed that the couple of hours listening to their sales prattle was a small price to pay. We've had a very interesting and enjoyable experience for really what has amounted to little cost, however, food and drinks were still to our account and none of that is cheap here. The ship experience was great – food was all included and it was absolutely the best we've had since we've been this side of the country.
Anyway, getting ahead of myself. The first couple of days were consumed with housekeeping, attending sales pitches, finding our way around (on the wrong side of the road and car) and I forgot to mention when we  picked up the car at Orlando Airport we left in pelting rain through which I couldn't see the road and we were in bumper to bumper traffic at 50 (mph that is). Shit, that was scary and it persisted most of the way to Daytona Beach  1 1/2 hours away . OK so back to Orlando …. this is a big city but it seems to be full of resorts, time shares, hotels, condos and all sorts of accommodation. It's also home to every conceivable fast food joint you could imagine and more than you would possibly know and all of it crap – we know, we tried some of it. On our second last night we did however find an Italian restaurant, albiet one in a chain, that was good. It was made even better by the waiter who was a real comedian…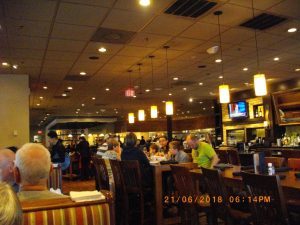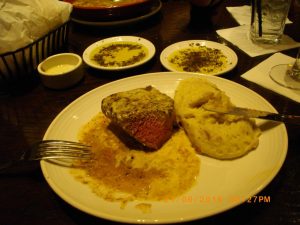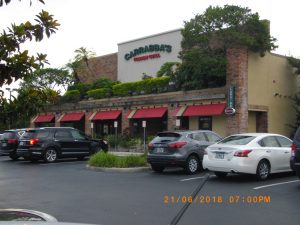 and where I had the best steak since we left the Michaels. The waiter gave us a heap of good jokes most of which I can't now remember but it was a most pleasant dinner.
Well we're in theme park city so what do we do – well follow the masses of course. Look up the web – tickets to Disney 3 days and about $340 each. Hell, we don't want 3 days and 4 theme parks and trains and trams between them and since I won't go on the big scary rides it seems a bit of overkill to go to Fantasy Land. Bad luck mate thats what we've got. OK so what about the Kennedy Space Centre. Hey, looking good. Only about $80aus each for a six hour guided tour. So book it. Done. Now the only way you can get in is with a printed ticket and guess what – I didn't bring a printer!!! Now you smartarses are gunna say – 'download it to your phone'. They're quite specific on that front too – NO! – printed ticket only. So I email the front desk and ultimately they're kind enough to download and print our tickets. Down I go to collect and on return to the room is a second email from the ticket issuer telling me they've made a mistake and here's the real ticket. Prevail upon the front desk again to print, which they happily did, so, all set, the next day we head out to the Space Centre. We join the queue, they eventually get to us and not only do they want our printed ticket but our ID and passports and we have to go through security inspection. They finally take our carefully prepared printed ticket and give us what – a f……. ticket!!!
However, the formalities over, the day turned out to be exceptional. This is a fascinating piece of American history and endeavour (perhaps we should call a space shuttle that) Some photo overview…..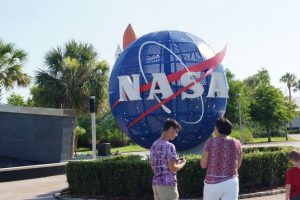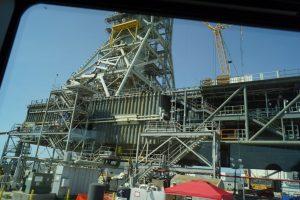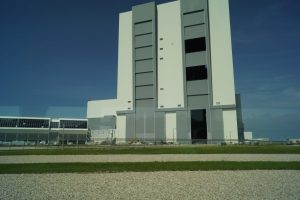 at the entrance, a field of experience, a Saturn 9 rocket, launch frame before it gets moved to site, the same launch frame from the base, the rocket assembly building and the control centre for the Apollo 9 (I think that was the number) Moon Landing.
This is where the main camera battery ran out so all photos hereafter on this day are of slightly lesser quality…..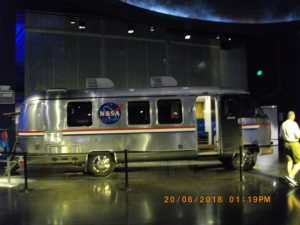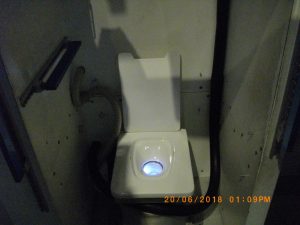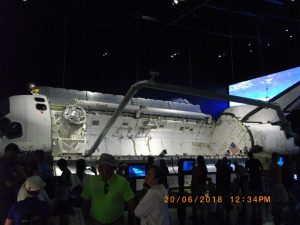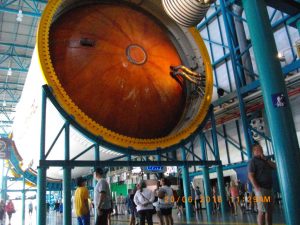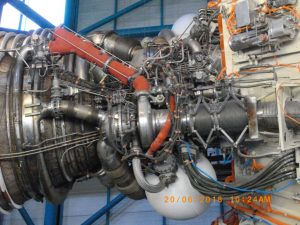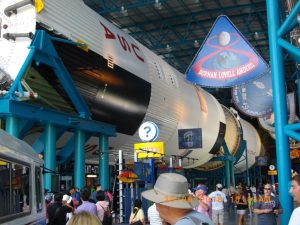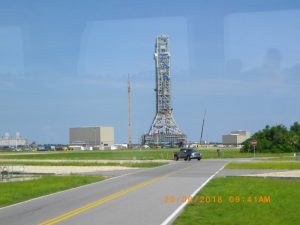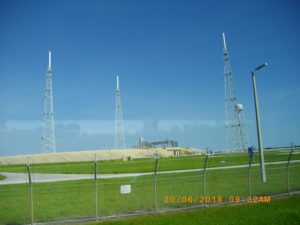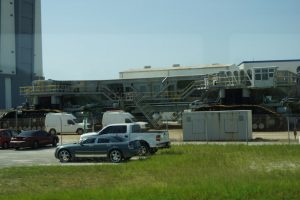 'Us, the bus used until recently to ferry the astronauts to the rocket for the last 30 years or so, how do astronauts 'go', space shuttle 'Endeavour', shuttle booster rockets, stage 1 of Apollo rocket, moon vehicle, stage 2 of Apollo rocket, engines of same, size comparison illustration, launch pads 39A from which most of the shuttle launches have taken place and 39B where SpaceX is now launching from and from where recently Elon Musk put one of his Teslas into low earth orbit, the bottom of the launch tower under which the crawler is placed to take the tower and rocket out to the launch pad some  3.5 miles  away'. The crawler takes about 8 hours to travel the 3.5 miles and consumes fuel at the rate of 1 gallon per yard.
This was an enlightening day and there is lots more yet between Orlando, Freeport, Miami and Key Lago but I must end now as we're needing a nights sleep before heading back to Orlando for our shuttle to the UK tomorrow.
Goodnight John- Boy!