Quobba Station sounded like a good place to park up for the night, particularly as it was off the beaten track after taking in the Pt Quobba blowholes. By this stage we're about 60 km north of Carnarvon on the coast….
Young fella fishing off the rocks beside the blowholes….
hooked a fish straight away. Got incredibly excited about the size of the fish – "biggest I've ever caught – look, look, look". Played it for maybe 10 minutes, yelling excitedly all the way. Just got it to side of rocks about to clear the water as shark takes it to the gills. Rod is nearly broken with weight of fish but even with only head left he tries to clear the water again and shark takes the rest, hook, line and sinker….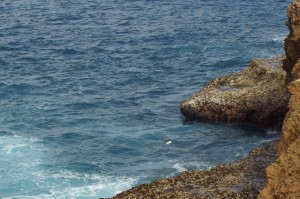 Talk about disappointed. Shark seemed contented though.
Onto Quobba Station – dirt road for 10 km – we didn't make 100 metres. Talk about rough. OK, rethink. Back to highway and on to Carnarvon. We're trying hard to save money so cheap/no cost accom is desirable. No such luck, had to take up residence in a caravan park…
then off we go to see whats what in downtown Carnarvon. Well, not much really. A nice little lighthouse keepers cottage, a bit of local shearing history, an old steam train that hauled stuff down the jetty and elsewhere an avenue of honour for the 645 casualties of HMAS Sydney II.
As a matter of interest we needed gas whilst here. Tried the local Caltex SS but at $46.00 figured it could wait. Remembered that Woolies/Caltex had cheaper gas. There's one in town – out of gas today but they charge just $25.00. Its Sunday, will have fresh delivery Tuesday but if your need is urgent you'll get some at Mitre 10 for $36.00. As it turned out we could wait until Tuesday because we thought there was more to see in Carnarvon. Picked up Woolies gas on Tuesday. How can it be – same product ranging from $25 to $46. Rip off.
One of the items on our bucket list has been to visit each of the most extreme points of the continent. We've now done north, east and south so west was next and now. So, from Carnarvon we continue down the coast to Denham. This is on Shark Bay, is next to the well known dolphin habitat of Monkey Mia and is the kick off point to get to Steep Point, the most westerly part of the Australian continent.
We overnighted at a 'free camp' just south of Denham only to be harassed by a council ranger at 7 am the next morning. We did notice a sign on entry that specified the need for a permit but phone call to council at 5.05 pm on our way in resulted in a 'no response'. Ranger was apologetic but insisted we still owed money for permit and 'he had our number' – 15 bloody dollars to park up on dirt with absolutely no facilities except a nice view. The caravan parks in Denham have the council in their pockets. We then paid $44.00 per night to stay in the 'overflow' area of one of the parks. Ah well!
Denham is however a nice little town…..
nicely placed on the beach of Shark Bay.
On our way into town we stopped at Ocean Park and found one of the best tourist attractions we have yet seen – an aquarium with a tour guide, a one hour journey through the world of fishes…
sharks, stone fish, turtles, sea snakes and Nemo fish, all described and personified in detail. Very very interesting, excellent experience.
Some consultation with VIC and other locals led us to the conclusion that Suzi wouldn't make it out to Steep Point – insufficient ground clearance. So, to achieve our objective our only option was to pay someone to take us. Attempted to book with service provider but nothing happening until a minimum number was reached. As it turned out 3 was the minimum (at $300.00 per head) and we had to wait 3 days for it to happen. In the meantime it was out to Monkey Mia to feed dolphins. Had to be there by 7.45 am. Horrendous hour but we got there along with 100 others. Good show though….
and Jude even got to feed one. With a bit of time now to fill in we took a drive out to Frances Peron national park to experience an old sheep station. It was mildly interesting….
a shearing shed and shearers quarters, a house/homestead not accessible to visitors and a hot spa from an artesian bore. Could have driven further out into the park but our experience on sand in Onslow had Jude a bit nervous, so back to solid land…
Well nearly.
Managed to fill in another day while still waiting to hear if we've got a tour out to Steep Point. Call finally came late on Friday to say that tour was on for Saturday – a third person had been acquired and be ready for pick up at 6.30am.
Up bright and early (well up!) and picked up in jacked up wide tyred Land Cruiser…..
met our travelling companion Roz  and tour guide Ralf and away we goed.
100km or so to the turnoff to Steep Point then let the tyres down. Hey this is serious. Aw! this doesn't look too bad…
and then it became a little more testing…
As it turned out there was no way Suzi would have traversed the sand dunes.
Anyway, we made the Point ….
and went on to explore the whole peninsula. Beautiful, stunning coastline and some of the best floral displays we've seen so far (and since) and fun sand dunes for that real offroad experience….
It felt a bit like cheating and there's no doubt I would have preferred to be driving but dear little Suzi would not have covered the ground. As it was the Cruiser did get bogged down in the sand but a bit of trial and error got us moving again. But, we've done it – explored the most westerly point of Australia. And its beautiful and rugged and exhilarating.
This entry is getting a bit long but I am catching up – I'm now only a couple of weeks behind. Part of the problem is the poor internet coverage down the coast. TV has been virtually non-existent except in towns and even then there are few receivable channels and phone reception has also been patchy. That's my excuse and I'm sticking to it.