Mightn't seem like a big ask but there were some holes in our travel coverage and this was to be the trip to fill them in.
The Birdsville Track, the Oodnadatta Track, the Tanami Road and the Gibb River Road were the holes in our journey map (at least to this point).
These are roads/tracks that you don't do in a Winnebago, nor do you do them alone. The plan was to do them with Robyn (Judes sister) and Ben and Amanda (Robyns son and daughter) with their respective spouses, Megan and Kent and a hoard of little kids. Also included was to be Steven and Carmel Boynton, Robyns in-laws. The plan started out fine – we all met at Windorah on and around 16 June (south-west Qld) after we left home twice. What!
Yep twice – left Benalla on the 9th June, got to Jerilderie and remembered my lap-top was not with us. Also discovered that we had less battery power than when we started that morning. Whoops, something wrong here so back home first to auto elec who did all the wiring and found a problem with dc/dc charger, rectified? and thence to Noarana to get pooter, turn around and head for the night to Griffith. Get to free camp and find battery charging problem not fixed so find spot with 240 volt in Griffith Showgrounds and charge up o'night. Find another auto elec in Griffith next morning and $250.00 and 2 hours later we depart for northern climes with problem supposedly fixed. Seems we had two dc/dc chargers competing with each other so elec cut the throat of one – problem partially solved. Now however we find that the fridge is drawing power away from alternator as we drive along leaving insufficient to top up house batteries. We learn to work around the problem.
On to Cobar thence across the Qld border with all of our Covid border pass permits in place (including NSW and Qld and SA and WA) but no-one even wants to know. Overnight on the 12th in Cunnamulla and then on to Charleville for the 13th  and meet Robyn on the 14th after a Cosmos Centre visit. Didn't see the stars cos it was daytime but did see an interesting doco on WWII (?) Some 1500 duplicated K's into the journey towing we are averaging 22.3 litres per 100km using  E10 (I mention this now cos in the future this will seem good). Onwards now with Robyn and we stop at this homestead by a lake for the night……
and then on to Cooper Creek for the meet up with the others…..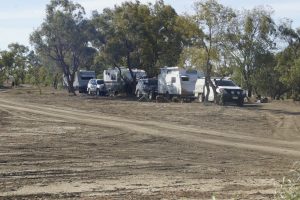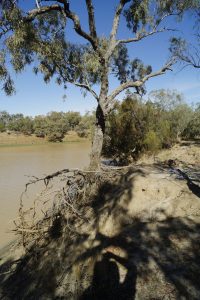 .
We are met here by Di and Werner Hass, friends of Robyns who have traveled some 1500km out of their way on their journey home to rendezvous with us for a couple of days. Good fun was had by all (and a drink or two). Ben and Megan, Amanda and Kent and all the kids (8) and Carmel and Steve all turn up a day or so later then it was on to Birdsville…..
where we dined in no style at all and then next day queued for 1/2 hour to get bread for the journey. It wasn't even Big Red Bash time but Birdsville was chokka.
Hit the Birdsville Track. (you'll have to wait for the next episode but this is where the fun starts!!!)