From Marble Bar it was back up 175km to Port Hedland, a place we'd heard of, seen on TV but needed to see. Bloody amazing! It's a BHP Billiton mining town but the port has been expanded to handle Fortescue Mining and is now being expanded further to accommodate Gina Rinehart (bloody big huh!) – 19 docks, 16 of which will load iron ore day in day out, ultimately something like 400 million tonnes each year. This is Australia being dug up and shipped en masse somewhere else….
These ships are massive – average around 200000 tonnes, 220 metres long, 60 metres wide. It takes a day to load each one, the cumulative load of 6 trains coming up in the BHP case from Newman. Each train carries around 33000 tonnes, is comprised of 4 engines and 240 ore trucks and is 2.7 kilometres long…..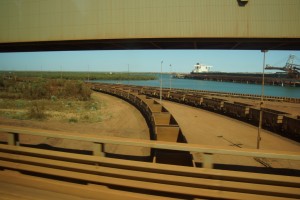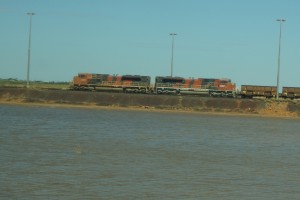 Its not possible to photograph them as they are just too long.
We toured the harbour with the Seamens Mission, taking us up close and personal to many ships being loaded….
The Seamans Mission picks up sailors from the ships and brings them into town for social and shopping activities and returns them each day. The ships are typically in port for 24 hours as they can only come in and depart on high tide and it takes at least 24 hours to load. There are typically another 30 – 40 ships sitting at anchor out to sea waiting to come in. A pilot is put aboard inbound or outbound ships and once they get to the channel it takes 4 tugs to manoeuvrer them in or out. The ships are turned to face outbound before docking to ensure they can escape quickly in the event of a cyclone…..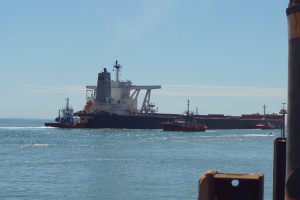 The port is massive, but its' dwarfed by the BHP ore handling complex…
We spent an hour in a bus touring the complex. Interesting footnote –  the old ore carts had external reinforcing ribs. New carts have internal ribs and the consequent fuel saving attributable to improved aerodynamics equates to $1,000,000 per year per train….
The trains travel 426 km from Newman in about 9 hours, unload and return, operating 24 hours per day. They have one driver who's principal responsibility is to press the 'awake' button every 90 seconds. The train, along with much of the handling equipment can be or is electronically handled from Perth. In one of the earlier photos you might see what looks like a control tower up high on one of the buildings – it is now redundant as all that it oversaw is now handled from Perth. The only function that actually still requires a person is the ship loader – the loading must be visible to ensure that it is distributed evenly within each hold of the ship, each hold having a capacity of over 20,000 tonnes.
Port Hedland also exports salt, manganese and a few other raw materials. These incidental things are handled through the 3 docks operated by the Port Authority as well as handling imports such as fuel – BHP holds some 66,000,000 litres of fuel oil within its complex, all transported in by sea. The salt lakes and storage facilities are fascinating….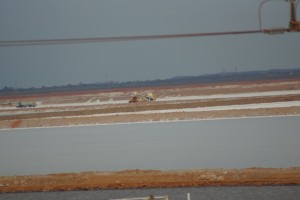 Must point out that this is not 'table' salt – it has industrial uses.
Port Hedland and South Hedland host about 15000 permanent residents and a further 5400 FIFO's. Property prices are unbelievable, typically higher then Melbourne prices for equivalent properties.
This is all interesting stuff statistically. Whats Hedland like? Port is grubby, South is sterile, but, it seems like the locals like living there. It has everything including an international airport (at this stage handling one flight a week to Bali) but we thought the temperature and the seasonal humidity and cyclones might all be a bit of a dampener.
Knowing the ore comes from Newman does not mean we understand how what and when. We had to see for ourselves so next is a 400km journey to the mine.