We left Gorge Rock Pool (near Hyden) to head back to Perth and decided to pass through Yorke on the way. Couldn't just pass through, ended up overnighting.
A very old town, established in 1831 just two years after Perth and it shows. Some lovely old buildings, one of which houses a great private motor museum.
(one in there for John). Took the heritage drive round town and, whilst interesting, not a lot different to many similar older towns  around the country. Nothing that we could say was outstanding but we did have some exception with the sentiment expressed on the above shop front.
Headed back to our new home with Ina and George in Midland. Still lots to see in Perth and we think we've covered the best of the south of WA so we're here till the end of the month.
Back to Fremantle to pick up where we left off a few weeks ago. Got to the prison. Didn't leave. A very interesting guided tour took us through most of the afternoon. Not sure why the prison closed in 1991 but the guide put it down to sanitary conditions. Apparently the state government decided that slops buckets in all the cells was too primitive and unsanitary for the prisoners and that no television in the small cells was all to much to bear for these pillars of society. 1000 prisoners here, mostly two to a cell. As it should be!
Unfortunately the last flogging on the triangle was before our visit (about 70 years before) but we nearly caught the last of 44 hangings (only 49 years ago). We're told that hanging is humane! – compared to what? The open doors above and the lit cell are the solitary confinement block but the hammock is a home away from home for the best behaved.
Anyway after a day in prison Ina decided we needed to feel the love of an Alpaca so she demonstrated what a carrot would bribe them to do…
but when I tried this one just smiled at me. Gee, I thought if the Quokka hurt why would I want to love up an Alpaca….
Fellow travellers Eddie and Joyce called a final farewell for Saturday as they set off for parts further north and on summons we headed for the "Lucky Shag" for a last drink. Being near the Bell Tower at Barrack St Pier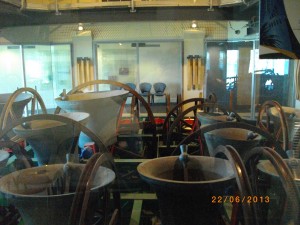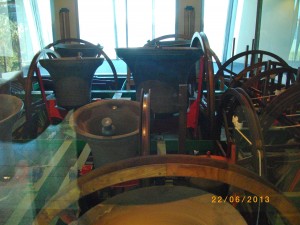 we took advantage of the half price Saturday deal and inspected the works. Beautiful piece of architecture (yes Jane and Justin I did say that). We were impressed and what a great view of the city……
Eddie and Joyce introduced us to the city's free bus service so we went for a ride with them. Went back into town a few days later by TRAIN and then caught free buses to tour the city. Parliament house question time was the best comic relief for the day, but there were a few other highlights..
(Old London Arcade 1937, Town Hall 1867, Parliament House new part 1962, beautiful lacework 1890's, The Perth Mint 1862 and local bounty)
Old folks tickets on train for both of us, $8.80, $2.00 to park the car at station for the day and free buses and free comedy show in the public gallery made for a very enlightening, entertaining, inexpensive day out. Whats more, the weather continues to be good.
We'll see what the next few days bring but by and large I think we are ready to move on.