Much valuable time has passed since the last entry hereupon. We've  had a more than memorable birthday bash for a seventy year old who shall remain nameless, been  motoring lots in Midget with the clubs (Goulburn National and Gippsland Tour), another 70th Birthday over the last weekend in Mornington (and I won't publicly embarrass her will I Sue), packed up house and home and now find ourselves on the way to our new "job" in Bundaberg.
Along the way we stopped over in Newcastle with dear daughter and dined with Daryl and Yvonne, attended another surprise birthday function in Aratula (but only a youngsters 60th) and tomorrow we move on to later arrive in Bundy via lunch with the Robbos.
(One very surprised Robyn also with sisters)
We are away for at least a year. I hope there will be plenty of interest to report. Right now I'm struggling to remember where the last 3 months have gone – its a blur. Perhaps that's something to expect at a certain age, but I'm not sure, can't remember. What!
I do remember the bloody cold in Benalla and Melbourne and all the places so far along our northward journey. Its' been freezing. Just hope those temperatures reported for Bundy on every nightly news session are real – 24′ – 28′ – luverly!
On a retrospective note, thanks to Mike and Marg and Judi and Rob for all of their help over the long weekend – packing and placing into storage most of our worldly possessions. Job well done but with the most sincere hope that we don't have to do it again.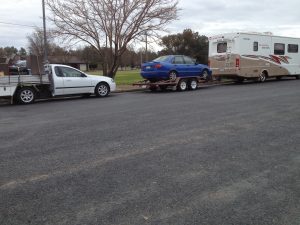 I do say "most" of our worldly possessions – we are taking a shit load with us still – have a look at the gypsy caravan.
We'll call it a night now and with a bit of luck will find time over the next few weeks to report on our fist impressions of the new "JOB". What we do know is that the park we are managing is now full so we'll be hitting the ground running. Hope these old bods can handle the pace.