From Cape Jervis and the ill-fated ferry journey to Kangaroo Island we drove on to Victor Harbour. SA roads are not very good so it was a fairly slow trip. As we had been invited back to the Pattersons at Normanville for Saturday dinner and a sleepover we didn't want to stray too far from there. Victor Harbour as it turned out was such a nice place we ended up staying on until Tuesday.
We didn't make Kangaroo Island this time but we experienced the next best thing – a walk around Granite Island off Victor Harbour. A beautiful nature walk and sights – also notable for little penguins and seals and its horse drawn tram…….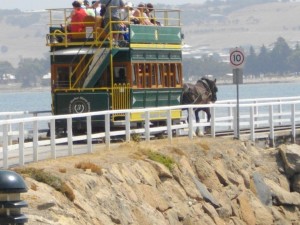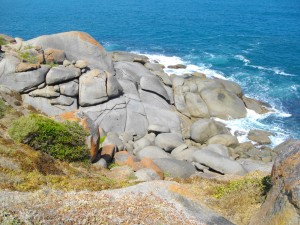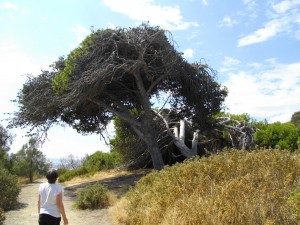 Jude was quite sure the old horse was overloaded and looked more than unhappy about his lot so she wouldn't  let us ride the tramcar. After a 3 or 4 K walk around the island I can tell you who was more buggered, but she slogged back on foot regardless. Good for us I said!!!
Dined out in VH Friday night at the 'pensioners' pub and had quite a good meal for not a lot of money – apparently though we came in too late as we missed out on a lot of the buffet sides. We now understand that these sides are a pensioners main fare but you have to get in early before the full ticket diners get in, so on Sunday we got in earlier at another local but still missed most of the sides. Might have to get to dinner by 4.30 in future just like the old people.
Saturday saw us at Goolwa for the bi-annual "Wooden Boat Festival". Spectacular array of old wooden boats, mostly from the Murray and the Coorong and other local areas but a very well attended event on what turned out to be a beautiful day. Prior to this had spoken with Mandy Stokes who with Richard lives in Goolwa. Richard as it turned out was 'officialling' at the Festival but despite phone calls, paging and CB seeking we didn't manage contact until we got back to Normanville later in the day. Arrangements were subsequently made to catch up at their place Monday night.The Festival though looked like this…….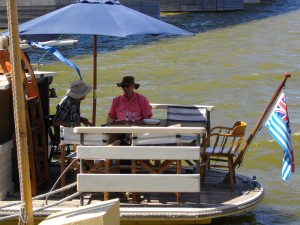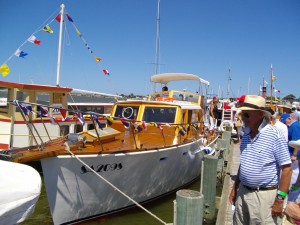 and this 
Saturday night back to Normanville for the magnificent hospitality of the Pattersons who look like this……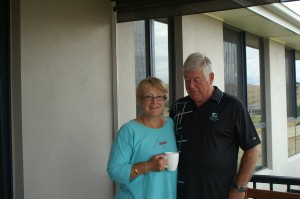 Terrific outlook, lovely home and great company – thanks Sue and Pete.
Sunday neccessitated a bit of R & R so after a liesurely drive back to VH from Normanville we shopped, walked and sat and house kept until dinner at a previously mentioned (other) pensioners public house, but still not early enough.
A strange thing happened Monday – it rained. We have not seen water from the sky since well before moving from Ringwood. Put a bit of a dampener on activity but on clearing later in the day we took off for Hindmarsh Island to look for secret womens business. Its still secret. We did peer up the mouth of the Murray and explored a lot of the island. Wasn't hard. Dunno what secrets there could be.
Back to Port Elliott, picked up with Mandy Stokes at kindergarten who led us unflinchingly back to their place at Goolwa where we enjoyed another great night of old friends hospitality. Richard was his memorable ebullient self and  Helen King  joined in the night of reminesences all over a great barby surrounded by a beautiful garden and not a few bottles of red……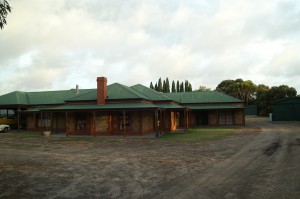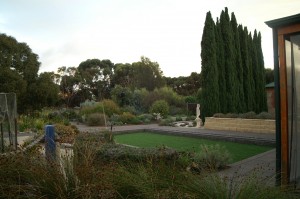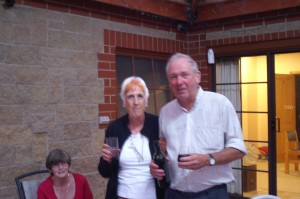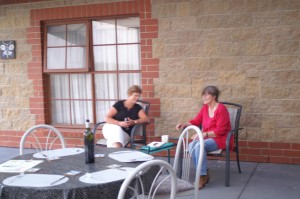 ….and I'm happy to report that the Midget once known as the ex-Boyd car is now unquestionably the Stokes' car. Its pristine and belies its age. Enjoy guys and thanks for a memorable catch up. Gotta do it again next trip!
Now in the heart of Langhorne Creek but more on that in due course.