We moved house again, this time for the foreseeable future. Thanks must go to the Lomas/Phillips', Van Oosteroms and the Fergussons for all of their help over the move as well as Ian on the Sunday. A fantastic effort folks , greatly appreciated. Also to Robyn, coming down from Qld to help out in the week after the move. The Lima East property was listed on a Thursday and was sold on the following Monday. Why didn't Ringwood sell as well? Jude came down with pneumonia again just prior to us moving which seems to be an annual occurrence and its taken several weeks and another trip to the hospital to get right again. But, she soldiered on through the move and even managed a drive to Melbourne to take me to hospital. However the drive home was more draining and fortunately we had Ian along to take up the wheel and steer us safely back to Benalla.
We took the Hovel to Myrtleford for a 60th birthday party at the end of December. Judes comment as we drove out  was "it feels like home again"
We joined with the Van Oosteroms in their caravan to help celebrate Glenys' 60th birthday at Simones in Bright on the 30th December.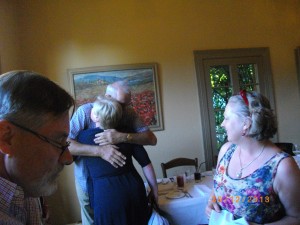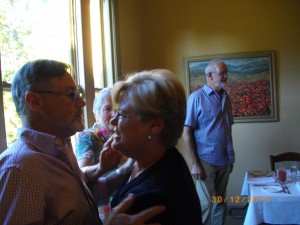 A really great choice and night organised by Bob with many other guests including the Dewars and many of Glenys' work friends. I think the surprise worked. Then we spent New Years Eve with most of the group back at the Myrtleford caravan park. Barry was a cripple after having had finger surgery earlier in December then developing a problem with the left knee which prevented too much physical activity. But we did manage a very pleasant musical interlude at Gapstead Winery on New Years Day.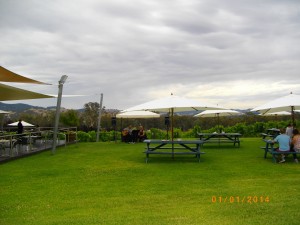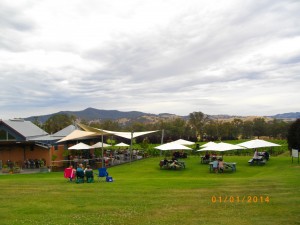 We also stocked up at their wine sale.
The knee problem continued up to Monday 20 January but after surgery it is now just recovery pain.  Hopefully all will be well before we hit the road again in March.
We haven't yet finished the move into our new home cos we're a bunch of old cripples. We still have boxes floating around still packed, mostly pictures cos we can't agree what to hang on the less than Ringwood wall space. The garage is a mess even though I've got more work space than I've ever had before but that too is cos I've been crippled since just after the move. I might get it sorted before we hit the road – then again, does it matter? Still got a variety of little problems to sort out with the Hovel but at least we now have a working toilet (a long and expensive story for another day) and one TV – the second one died and will have to be replaced. Trailer is also in for repairs and modification so hopefully it won't let us down too early in the next trip.
Anyway this only started as a quick update so I could get back into practice. More newsy stuff in March