We must have been busy because tomorrow has become Sunday and we're winding up our time in Bunbury. Moving on tomorrow.
I said I would post some bits on what we have done since Albany and whilst I've touched on Margaret River there have been a few other wonderful experiences before and since not the least of which has been the company over two nights here in Bunbury of Maree and Colin. The caravan park put on a fundraising sausage sizzle on Friday night along with a singer of songs. We met up with Colin & Maree over a snag and it turned out that Colin could sing so he joined a few numbers with the singer of the night. The park management decided he was an entertainer in his own right so they engaged him for Saturday night and we all sat around to a 3.5 hour repertoire. They've even booked him for New Years Eve. Two great nights entertainment with a lovely couple who happen to be around our age and are from Perth. We'll keep in touch.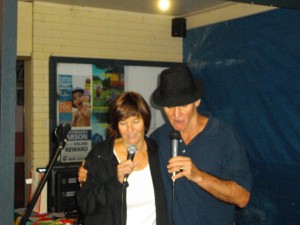 Princess Royal Fort at Albany was an afternoons adventure. A really great record of Australias participation in the various wars presented in a facility that dates back to the late 1800's and in a setting that lets you get up close and personal with the various artifacts even to the extent of getting into and sitting in different guns.
The fort itself was established to overlook and protect the Princess Royal Harbour which was and still is a major shipping port. Its also the loaction from which 36 ships embarked 30,000 or so Australian soldiers heading to war in 1914. It seems that the largest single contingent of Australias troops left from here. Several ships can be seen at anchor in the harbour prior to loading at any time…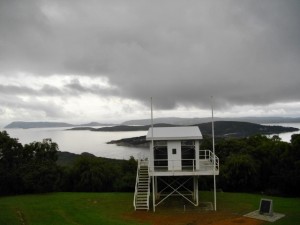 although none to be seen in this shot but what an outlook. There is one though thats goin' nowhere…….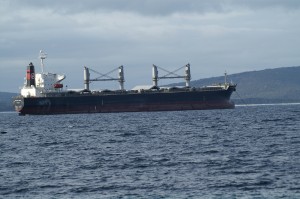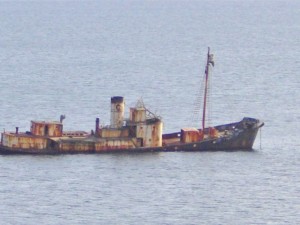 …you be the judge of which. 
Whale World was an education. A genuine whaling station albeit just a 1952 iteration it operated until 1978. In its time it was responsible for harvesting 11500 sperm and humpback whales the latter becoming protected in about 1963 and the sperms by 1978. An interesting fact is most large whales of 50 – 70 tonnes mass will yield just 5 – 7 tonnes of oil. It must be very expensive oil to justify the infrastructure cost – at one time there were four whale chaser ships attached to this station operating 7  days a week and about 9 months of the year. By the way the ship above that has been scuttled is one of the chasers (Cheyne II as I recall).
Then also around Albany were the natural features…….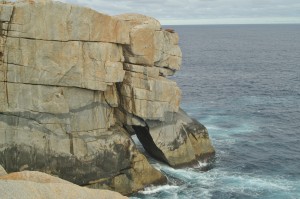 These are respectively The Bridge, The Gap and The Blowholes and of course the access (all 800 meters of it)
 Albany is quite a city with all of the suburban sprawl common to other major cities. Population is somewhat north of 30,ooo but it appears much larger whilst still retaining a lot of its sea-port, beachside and historical origins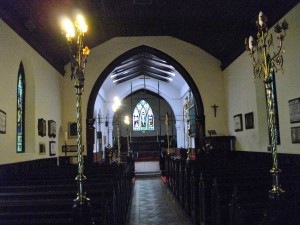 Church classified as the oldest in WA circa 1848, town hall circa 1860's, governors residence around 1880 and a local version of a rock garden. Large granite rocks jut out everywhere and in many cases have been beautifully integrated into the built environment. 
Albany seems weeks ago. We've now been away 3 months and it seems like weeks. This country gets better all the way but we have fallen in love with WA. Only problem is we can't afford it –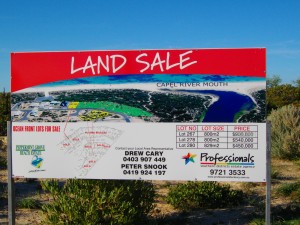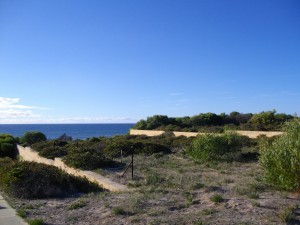 Full stop.