The plan was to meet Robyn  at Cobar – the plan worked and no-one was more surprised than me. We actually met up within a couple of hours, even though we were delayed on the road with a blown rear tyre. I should have taken a photo of the tyre with its guts hanging out but I didn't quite have the heart, particularly after changing it on the side of the road (on a slope). Boy, did it go BANG and I won't disclose what Jude nearly did.
Bit of a task to get a new tyre in Cobar. Firstly had to find a tyre trader. Having done that then had to get a tyre. Came in next day (Saturday) from Dubbo but the tyre guy did the right thing and  fitted it straight away. Turned out he was the president of the local football club and advised that there was a concert on at the club on the Saturday night which was right next door to the caravan park. The park people put on a campfire and we sat out and listened to Shannon Noel (WOOOW!). At least it was a good drink.
Cobar is a copper and tin and gold mining town of some historical note. Still mining but now underground within the old open cut, returning to the original mining format but much deeper…..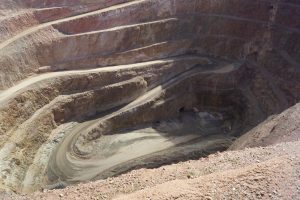 My photo essay is not complete until a dunny is recorded- this one is in a baby nursing carriage in the mining museum and it has a beautifully restored station thats not in the mining museum.
A couple of nights in Cobar and then on to the first planned destination for this trip – White Cliffs. Now, this is the last of the opal mining towns that we had planned to see in our travels – no reason other than it was there to be visited. Can't say it was a revelation-its just another grotty little mining town like all the other little opal mining towns but it and they all have a certain kind of character. This one has the first solar power plant in Aus….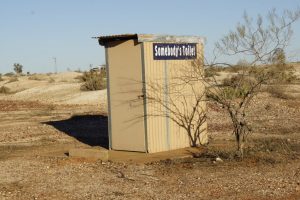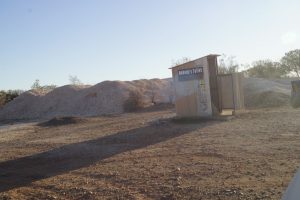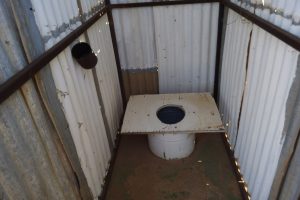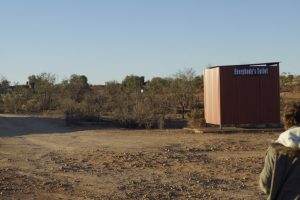 but of neccessity, when so confronted, one has to take the dunny shot(s) first…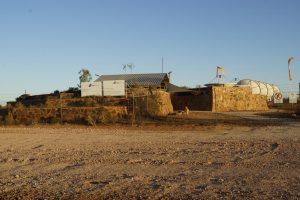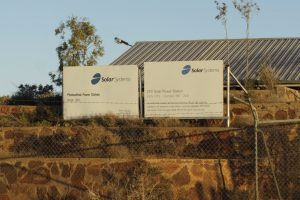 but this is different cos its sort of "hydro-electric" power – these dishes are mirrors which focus sunlight to a central cone which in turn has a water core thus boiling same and creating steam to turn a turbine to create the electricity. Wondrous and some 30 odd years old, but now out of service in favour of "the grid" which was connected to town about 20 years ago. It was just an experiment because White Cliffs is supposed to have more sunlight than anywhere else but at least it has been retained and maintained for tourists to gawk at.
We all went on a bus tour of White Cliffs. I thought $50.00 per head was a bit much believing we would cover it all in about 3 minutes, but 3 hours later we were returned to the caravan park much wiser and more familiar with the towns colourful history….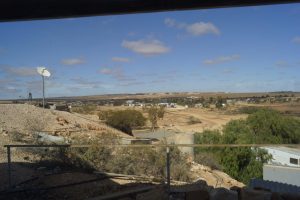 Like Coober Pedy people do live underground…
and, whilst this is a hotel, we were taken into a show piece residence but not permitted photos, so you can see it yourself at www.whitecliffsnsw.com  "whats inWhite Cliffs", "Underground Living" – this place is quite a work of art.
In an opal town one is expected to mine for opals. We were directed to some slag heaps where, so we were told, there was a very good chance of finding opal that had been dumped out with the slag. It was bullshit of course.I guess the locals figure that eventually us fossickers will fill the holes again for them – I mean after all of half an hour I'd managed to dig a hole next to the old one by emptying the diggings down the old hole. I don't know how anyone has the patience to do this day in/day out …..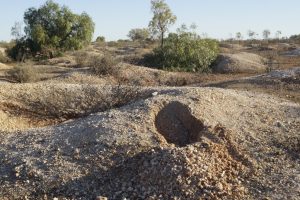 There are a few other opal towns but they have no infrastructure warranting a visit so we have actually visited all the opal mining towns accessible to us.