The trip back up to Roma was pretty uneventful. I missed the first turn Narelle directed me to and by default she found a better way which as it turned out was a wider road, had fewer twists and turns and relatively little traffic. Then on approach to Napoli we hit the Autostrada and stayed on it for lots of k's at 130kph – it was almost a thrill. Our overnight stop on the way to Rome was at Monte San Giovani Campano which I'm sure means a lot to everyone but it was just a convenient dot on the map that had a hotel we could afford. What a place it turned out to be….
and we were the only guests in the place. Dinner and breakfast were a bit (BIT?) limited but it served its purpose and boy did it have a fabulous outlook…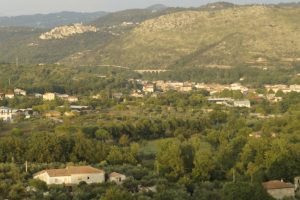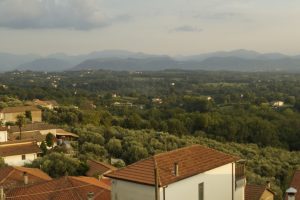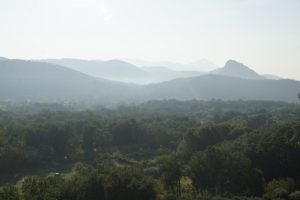 albiet a little misty.
We were in Rome at our hotel by 10.30 Saturday, dropped the baggage and took the car to Romes Leonardi Da Vinci airport to hand it back in. I was never so happy to be car-less. As most of you will know I've/we've driven Volvos for most of our lives, we're on our fifth at home but I could not get comfortable or secure in this V40 diesel. It was a major disappointment. The only thing going for it was its economy – average about 6l/100km over nearly 3300 km. I also have to admit at this time that of the 3 different cars we've had over this trip the VW Golf was the best to drive. Mind you it was the best of a bad lot. The Nissan Versa we had in the states had electric steering with about 3 inches of play at dead centre so it just upped and wandered at every bump in the road and the Golf didn't have cruise control and the accelerator pedal angle was all wrong for my foot so I'd get out at the end of  each trip with a crook ankle. The ergonomics of the Volvo were just all wrong…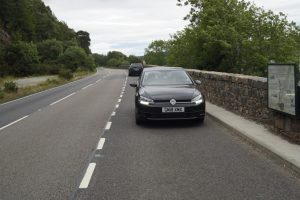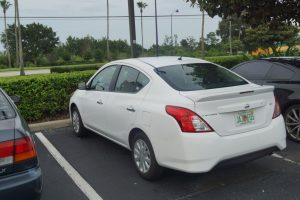 And we are tired. 3 months on the road has taken its toll. Living out of a suitcase was never going to be easy but we thought we could still do it. Driving on 3 continents (well including one little island), particularly the two on the wrong side of the car and the wrong side of the road has personally been more stressful than I previously recall, although that may be influenced by 4 weeks on the road in Italy.
I think our next trips OS will be of shorter duration and a bit more locale specific. Whilst it was absolutely fantastic to catch up with Gary and Linda Michael in Phoenix and Justin, Jane and Edith in London, we probably should have left it at that. Throwing in the east coast of the US then Scotland and most of Italy has really proven to be a bit much.
We're in Rome for a week and both of us can't stop counting down the days until we get on that big jet-plane home. This is greatly influencing our daily activities here. Mind you, so is the heat – it is still in the 30's and uncomfortable with it. We're about 15 km east of  Rome city with a rail line relatively close, so access is good. The rail network/service is terrific but the airconditioning and all the sweaty bodies are a bit of a distraction. We'll survive till next Saturday. We've got some tours booked so we will get to see most of the usual tourist hot spots of Rome.