We moved on from Napoli, just a few k down the road to Ercolano and this trip was perhaps the most challenging so far. Not only are the roads cobblestone and rough as guts the motor scooters are like bees to a honey pot and we're that honey pot. On top of them, the cars are swerving all over the roads to avoid the motor bikes, usually in streets which are not wide enough for two bikes let alone two cars and the bastards park with their noses into the kerb or side of buildings with their arses sticking out and you have to move over to the wrong side of the road to get past. Then add stupid pedestrians to the mix and by the time we corrected Narelle with the phone and got to our hotel it was all I could do but take a big drink and we've only gone perhaps 20 km. I was a nervous wreck. I didn't get the drink either.
But, we were too early to check in so figured we might as well use the time to go on the next few km to Pompeii. UGH!!!! It all worked out but I can tell you I was sitting higher in the seat!
Well we actually got to Pompeii about 12.00 and as it turned out there was a minimal queue. We left the car with its keys with Mr Shifty on the side of the road and traipsed up the hill to the entry to the site and joined the queue. It did only take a few minutes which is better than we've experienced elsewhere but then we sought the services of an English speaking guide who directed us to 'wait over there' whilst he drummed up some other suckers.
After 20 minutes he hadn't so we just moved on. Fortunately just inside the entry we stumbled across another English speaking guide who had just one family with him so we were able to tag along for actually less money than the first guy wanted. And he was worth every euro.
This is a fascinating, awe inspiring piece of history. Founded around 6th or 7th century BC it is (or was) a masterpiece in town planning and living standards. What is particularly interesting is that it was a major trading center in its time. For a better history than I have space or talent for please consult Wikipedia – you will find it interesting.
The place is extensive, greater by far than we expected meaning we ran out of time to explore it all. Additionally the weather wasn't kind to us with heavy rain coming in late afternoon but with our guide and then some free time we covered most of the recorded parts….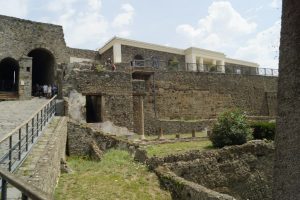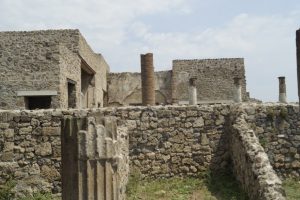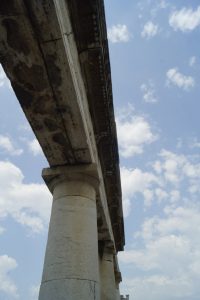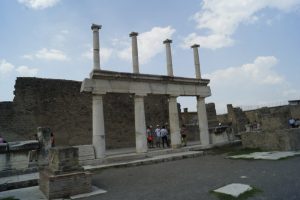 There are specific streets dedicated to residential, retail, commerce, industry and even brothels. The sign of an erect phallus is the sign of a brothel…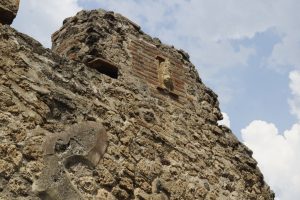 although this one is worn down a little with age (know the feeling). There's even bars and food stalls..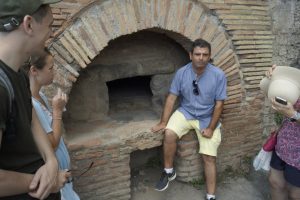 and bakeries…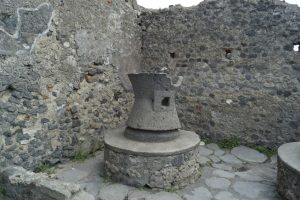 where they gound the wheat to make the flour. These are distributed throughout the city.
Pompeii was destroyed by the eruption of Mt Vesuvius in 79AD. Apparently there was fair warning and a lot of people escaped but many died not as history tells us but as recent research has demonstrated through the application of extreme temperature ie up to about 250′ celcius. Ultimately Pompeii was inundated with volcanic ash and upon excavation many cavities created by cindered bodies have emerged. Apparently through an archeological dig in the 1800's many such cavities were filled with plaster to create some of the moulds shown here…
Similarly so many artifacts survived as is evident behind these moulds and apparently ongoing excavation continues to find more of Pompeii's history.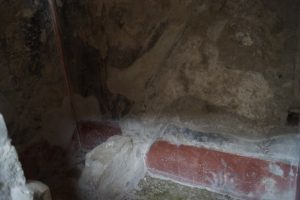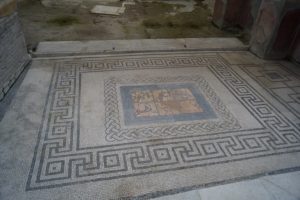 This place is intriguing – there is so much "civilisation" here it makes you wonder how we lurched into the dark ages following the demise of the Roman empire in 476.
Anyway, enough of the philosiphying its on to other important matters. We stayed this next two nights at Villa Signorini in Ercolano to which our budget will attest is a residence in decline. It clearly was a mansion of some significance once upon a time but it has definitely seen better days….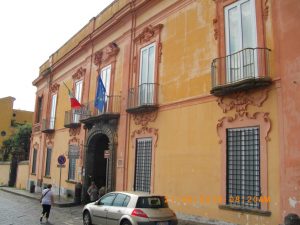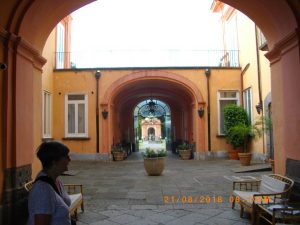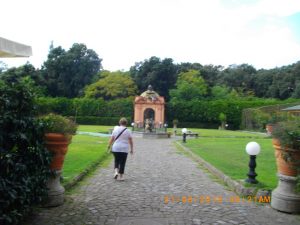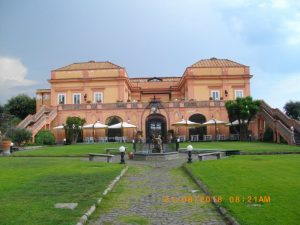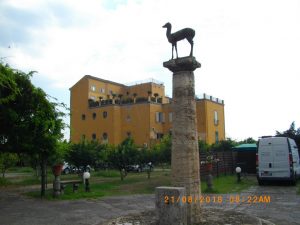 Because we could, on our second day here we took a walk (had booked two nights cos anticipated spending a full day at Pompeii but having got in early managed Pompeii on day one) and came across some dreadful streetscape…..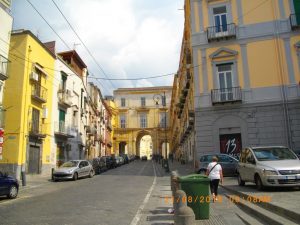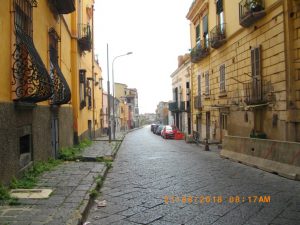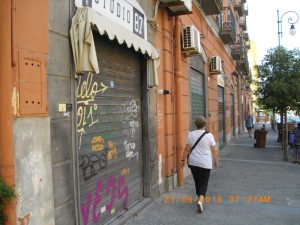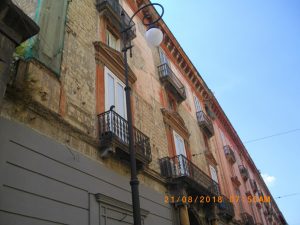 with a surprise in the middle…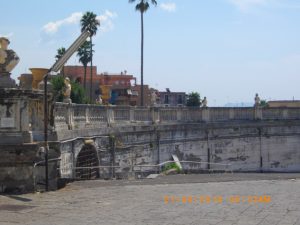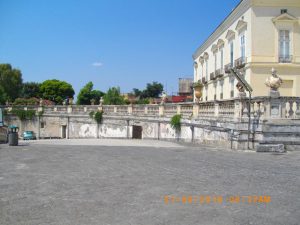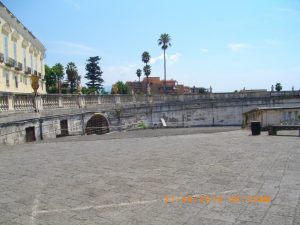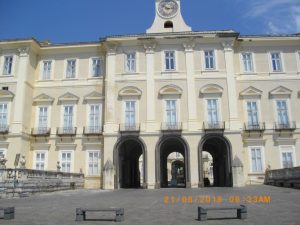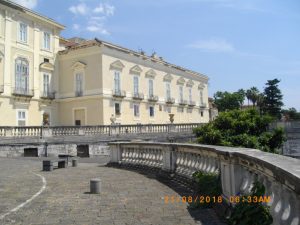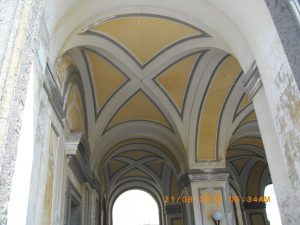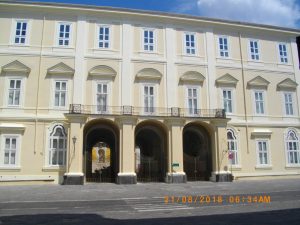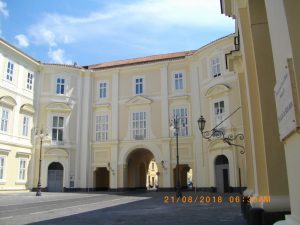 the Palace of Bourbon, the summer residence of I think King Charles II and wife the sister of Napoleon Boneparte but what is now the University of Agriculture.The road runs through the middle of this palace and it is only the central facades that have so far been restored but we saw evidence of work in progress. This being more effort than we've seen anywhere to maintain/retain some of this incredible history.
There is graffiti everywhere throughout Italy, no less so here in the ancient city of  Herculaneum….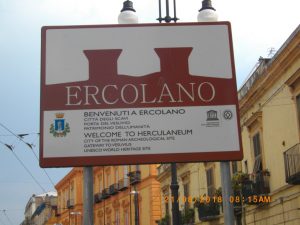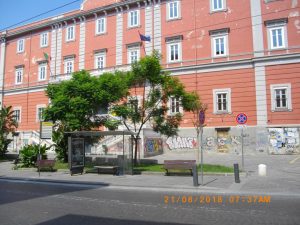 and it is all so mindless and unsightful. Is this just another sign of the decline of what was once a great nation.
There is so much history here – its a shame that it is so diminished by vandalism, poor maintenance and poor behaviour.