Due to the time constraints imposed by the nature of this venture we have but one day and two nights in most of the places we want to visit. Genoa is no exception.
In order to get our visiting priorities right, if the option presents itself, we take 'Big Red Bus'. And so we did in Genoa. The most obvious aspect of Genoa is its built history – there are some glorious buildings….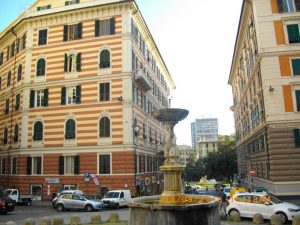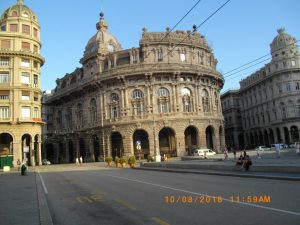 all of the above being more than 300 years old, the twin towers some 800 years old.
And for Bobs benefit they can grow luverly nandinas in the main streets…
Genoa is a port city with a long seafaring history although none of that was too obvious to us in our brief stay. Like so many European cities though it does have its share of mediaeval churches…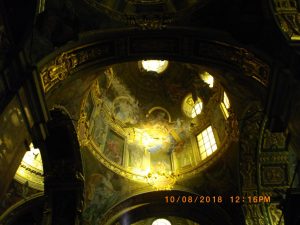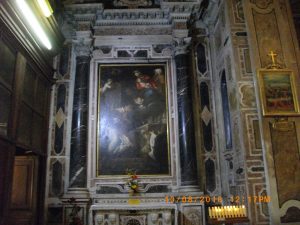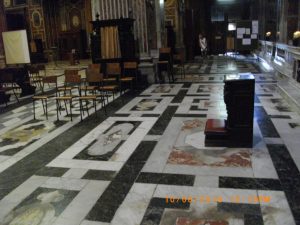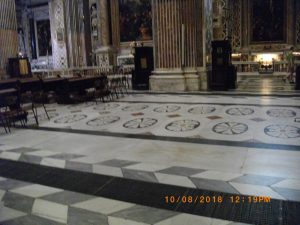 this one being deceptively plain on the outside but incredibly ornate inside.
Yet another church said to be built by a wealthy family for their own personal benefit some 400 years ago financed by the interest alone from their banking deposits…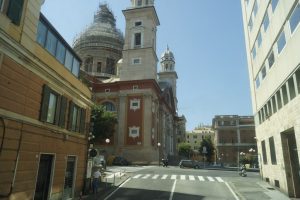 and it takes up a city block. It is difficult to comprehend the wealth of some in those days as it also was back in the UK…
Even this fountain was donated to the city by some wealthy benefactor.
"and the figurehead was…..?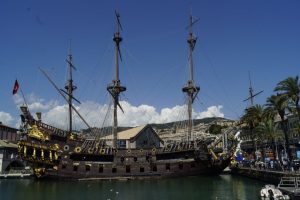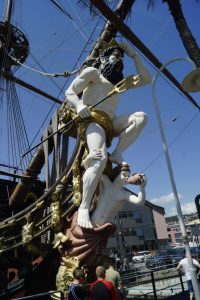 but it is only a film set for the movie "Pirates" moored permantly in the harbour.
No doubt you have heard of the bridge disaster that has beset Genoa in the last few days. It must have happened just after we left cos we only heard about it from some of you back home. We don't have photos of the affected bridge, didn't see it, don't know it or where exactly it is. Similarly the explosion in Bologna happened just after we were there. I hope this is not a pattern!
I have to point out here also that we have not seen much in the way of TV let alone news broadcasts. Everything is in a foreign language and not one set yet has allowed translating subtitles and what we have seen is mostly imported shows with Italian dubbing.
The other thing that continues to astound here are the road rules. There seems to be one set for us poor tourists and none for the locals. Motor bikes, scooters, cars speed past usually over double lines or painted traffic islands weaving in and out of traffic like they're invincible. Then they poke out of side streets and you have to veer into oncoming traffic to avoid them, all with microsecond responses. Parking is whever you like, easier if you just get the nose of the car into the kerb without having to worry about the back end sticking out. Again all you can do is veer into oncoming traffic which the oncoming drivers just seem to accept as par for the course. Then of course there are the pedestrians – they all seem to have a death wish. They just saunter across the roads in front of cars, buses and trucks and everybody just seems to ignore them. And the motor scooters – they attack from both sides in numbers then line up in front of everything at the lights (when they do stop for the lights) and then just dawdle off. And all of this is happening on the wrong side of the road. Streets are so narrow in some places you can't avoid crossing into oncoming traffic lanes to just get past the parked cars and many of the roads are so poorly defined you don't actually know where you should or need to be let alone going in the right direction. Its a bloody nightmare. I'll be glad to give the car back, hopefully unscathed (or maybe I'm too old for this shit!)
Genoa once was a walled city, like so many others of Europe but with the effluxion of time the walls have outlived their usefulness and have almost disappeared, but some remnants and reminders of a different time survive….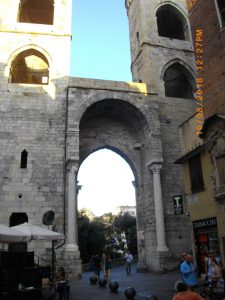 The car sat idle in a paid carpark for the duration of our stay in Genoa (as it did for our 3 days in Venice) and that was a big relief. I don't know how the bus drivers cope with the traffic in these cities -I guess they don't grow old in the job.