About a thousand years ago Kelvin Whitford said to me "Europe is much better than Asia" I think mainly cos I'd spent more time in Asia than he had. But in time I think he might have been right. Europe has been more interesting although in different ways. A few centuries later he told me "there are three great drives in the world today, they being the Great Ocean Road, the Santa Barbara Coast and the Amalfi Coast". At the time I was about to venture up the Santa Barbara Coast in the US. Been there dun dat! so the Amalfi was to be the last of  the three. Our first taste of the Amalfi was frightening – we had come out of Napoli via the Autostrada (toll road) thinking it was the safest way to travel only to find that it 'don't go alla da way'. In fact it only got us the first 30 or so Km. From the end of the Autostrada we managed this rearward view of Napoli though….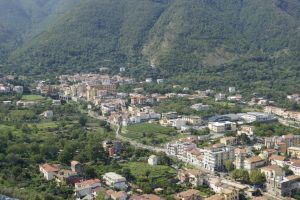 but the next 70 or so to Amalfi were through mountain passes that would have been tight for donkeys. Oh God I was scared and I now know why Italians are so religeous. I thought our earlier experiences were bad but!!! To cap it off Narelle couldn't find our hotel and we found ourselves doing U turns in traffic that was bumper to bumper, door handle to door handle with buses and scooters crammed in between and then entering a piazza that was forbidden to traffic. Finally a phone call to  the hotel got us rescued, our baggage carted off and our car taken away, to where we knew not! However the hotelier put in a request to the authorities to refrain from prosecuting us for entering the piazza – I still don't know if that worked. The hotel was in fact off the piazza but there was no way you could practically drive to it – we nearly did though but we didn't actually know that at the time. If you can picture a car sitting in a plaza with its nose up against a footpath restaurant with crowds of pedestrians milling around you are starting to get a feeling for our consternation….
The hotel was also up a million steps (well nearly)…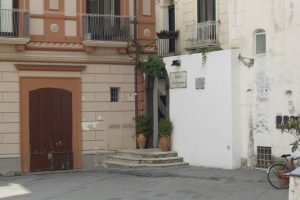 and yet its promo when I booked it advised that "self parking" was available. You can't trust advertising can you?
So our first experience of the Amalfi Coast was anything but exciting or stimulating. In fact it was downright intimidating with police and military with big guns everywhere and traffic like you wouldn't believe. Yes, the place was unusual with buildings clinging to mountainsides (well perhaps not that unusual for Italy but it was on the water) but how the hell do you get to really see it. Personally driving it is not an option – there is nowhere to stop and take a photo let alone take your eyes off the road long enough to admire the scenery so the answer we thought was… take a bus. We did, but let me assure you it was still nerve wracking.
This road is one you could feature on that TV program "The Worlds Most Dangerous Roads". It was originally built by the Romans (talking first, second, third centuries here) but it was upgraded in Mussolinis time (1900's) and is now wide enough for a car and a motorbike in most places. Trouble is it takes cars, bikes and buses all at once. The bus has a klaxon. It is used at every corner. There are mirrors on many corners but everybody ignores them. I couldn't count how many times the bus stopped to let other traffic past in the opposite direction, let alone the back-up, forward, back-up movements to let other buses past, this usually up against a wall of parked cars or bikes…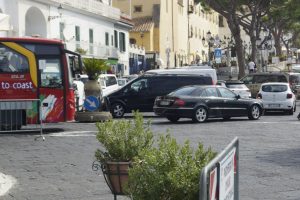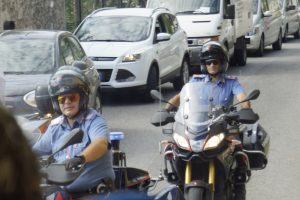 The road hangs off the side of the cliffs…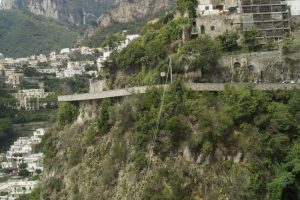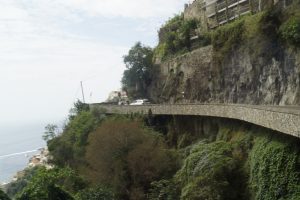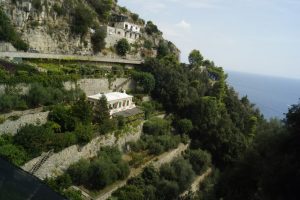 and there are breathtaking drops off the sides…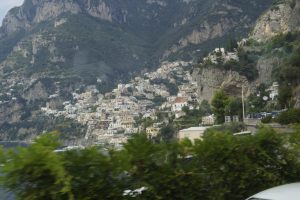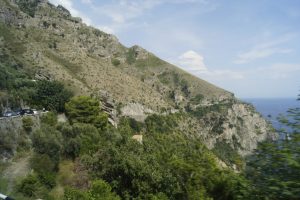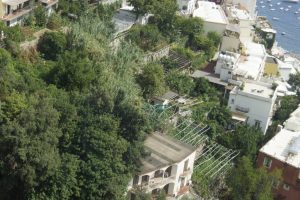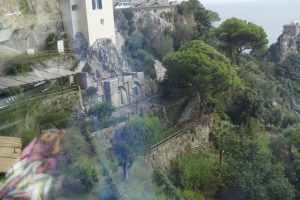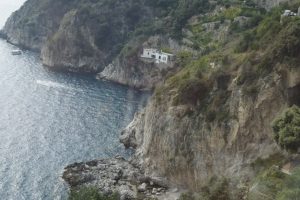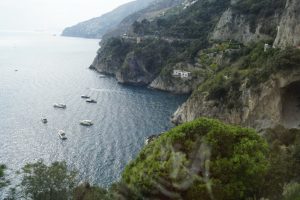 but the landscape is spectacular with residences also hanging off the sides of precipices…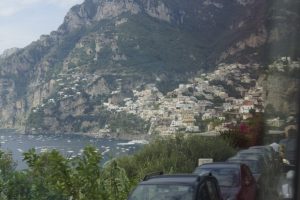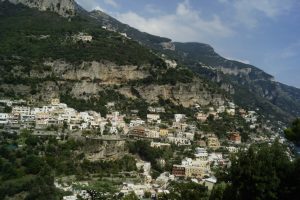 This being holiday season Amalfi like all of its sibling towns along the coast is bustling with sun-worshippers…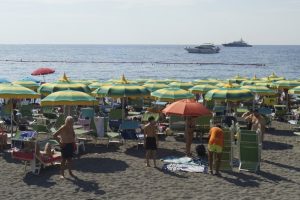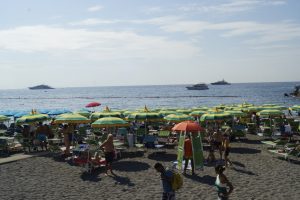 all renting their beach umbrella and spot on the beach.
For all of our trials and tribulations of getting here and finding our hotel our stay was memorable. The scenery, the drive (albiet by bus), the food was terrific and we're pleased to have done it. It was worth while.
By default the drive out was nowhere near as horrendous as the drive in but that can wait to the next entry.